Vizit of Sakpatenti delegation to France
April 10, 2012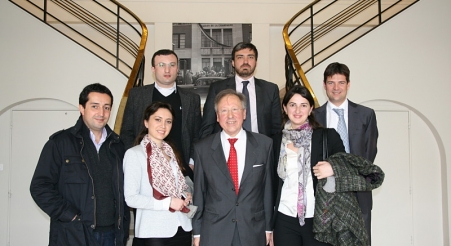 On April 2-5 an official delegation of Sakpatenti, headed by Chairman Mr. Irakli Ghvaladze, visited National Institute of Origin and Quality (INAO) in France with the support of EU project TAIEX.
In the framework of the visit French experience in the field of registration and protection of geographical indications and appellations of origin of agricultural products was discussed.
Under the Agreement between the European Union and Georgia on Protection of geographical indications of Agricultural Products and Foodstuffs, enacted since April 1, 2012, Georgia protects up to 3000 European geographical indications on its territory. Therefore, this workshop is of utmost importancein terms of sharing European experience (especially France) in the protection of GIs.
In the framework of the visit in France Georgian delegation visited famous wine growing region – Champagne and met with Mr. Jean-Luc Barbier, Director General of the Committee of Champagne.
As a conclusion of the visit an official meeting of the group with the participation of Ambassador of Georgia to France took place with Mr.Jean-Louis Buer, Director of INAO.
Representatives of Georgian Embassy to France and Ministry of Agriculture of Georgia were also involved in the discussions.
Permalink:
http://melisbek.com/story/2012/04/vizit-sakpatenti-delegation-france