Sakpatenti Awarded a Winner of Competition "Leonardo da Vinci"
December 22, 2011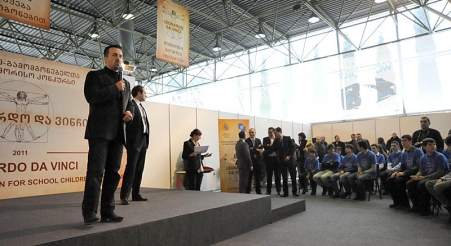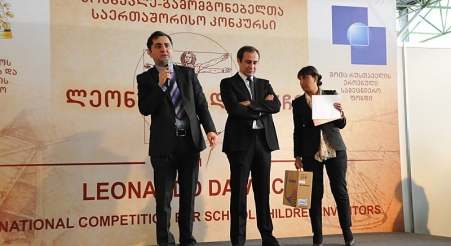 December 15th revealed the winners of young inventors' competition "Leonardo da Vinci" at the exhibition center "Expo-Georgia". The event was initiated by the President of Georgia.
Mr. Dimitri Shashkin, Minister of Education and Science, Mr. Sulkhan Sisauri, General Director of Shota Rustaveli National Science Foundation, Mr. Irakli Ghvaladze, Chairman of Sakpatenti, Mr. Alexander Khetaguri, Minister of Energy and Natural Resources, Mr. Irakli Kadagidze, President of National Bank of Georgia and Mr. Giorgi Vashadze, Deputy Minister of Justice, familiarized with the innovation projects created by young inventors and handed over prizes to the winners.
The commission selected 4 best projects. The Grand Prix was awarded to Soso Mamukashvili for the invention "Intelligent Solar Energy Receiving Source". In addition, he will be sent on a study tour to England.
Sakpatenti awarded a special prize, a camera, to Iveri Mchedlishvili, a ninth-form pupil of Kobuleti "Georgian Language Centre" for the invention "Skillful Robot Controlling Leaked Water".
Source:
http://www.sakpatenti.org.ge/index.php?lang_id=ENG&sec_id=17&info_id=654
Permalink:
http://melisbek.com/story/2011/12/sakpatenti-awarded-winner-competition-leonardo-da-vinci