Whether Beloved or Overhyped, Georgian Wines are Looking to Make a Comeback to Russia
September 2, 2011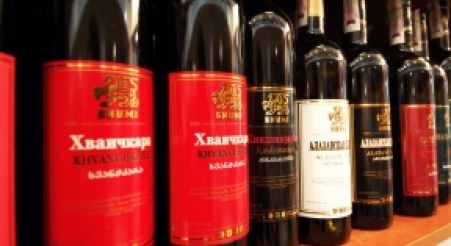 Five years after being banned from Russia in an international scandal, Georgian wine, a perennial favorite from the Soviet era, might be coming back on the market.
Along with the Georgian mineral water Borjomi, southern semi-sweet reds have been sorely missed in Caucasian cuisine, as well as by many who have been drinking the wine for years. Yet the availability of higher quality wines in recent years, as well as Georgian wines' long absence from the market, means that producers may have trouble luring back their former customers.
Georgian wine companies are already lining up to submit their products to mandatory import checks, signaling what may be the end of the ban on Georgian wines. If the wines are deemed safe, then Russia may be seeing deliveries from Georgia before New Year, Russia's chief doctor, Gennady Onishchenko, told Vedomosti.
Georgia is one of the world's oldest wine producing regions, and Georgian wine has been popular in Russia since the Soviet period, when it was converted into the mass-production region of wines for much of the Soviet Union. When the Soviet Union fell, the country's wine production suffered and foreign competition became a new concern. Yet for many Russians, Georgian wine retained its brand image from the Soviet period, maintaining its popularity into the decades after the collapse of the Soviet Union. "People continued to drink the wine out of habit," said Anton Panasenko, a local wine expert who owns the Tre Bicchieri and Tinto Fino wine cellars in Moscow. "It was often unavailable during the Soviet times, so it was highly valued and people then acquired a taste for it." For most experts, he added, the wine couldn't stand up to powerhouses like France or Spain, but among others, in particular in Caucasus cuisine, the wine was a favorite.
In the years leading up to the ban, the wine was indeed starting to make a bigger dent in the overall Russian market. In 2005, the year before the ban was imposed, Georgian imports made up about 6.7 percent of the Russian market, according to data from the Federal Customs Service. While far behind market leaders like Moldova, which held 46 percent of Russian wine imports, and also slightly trailing Spanish and French imports at 9.8 percent and 8.9 percent respectively, Georgian wine production and imports to Russia were both jumping quickly.
Yet the lack of control in the market led to producers selling counterfeit Georgian wine. In particular, a well-known brand, Tsinindali, had become a particular target. "People faked the Georgian wine because the brand had become quite popular. If you fake wines today, like French wine, you'll be tracked down and caught quickly. There's a lot of bad wine, of course, but not much of it is counterfeit," said Anna Kukulina, a journalist at Simple Wine News.
In 2005 the issue came to a head when Onishchenko claimed that impurities and pesticides had been found in wines from Georgia and Moldova, which ultimately led to the ban on wines from both countries. The market was quickly filled by other European producers, noted Kukulina, as well as a burgeoning Russian wine market.
The decision to readmit Georgian wines to the Russian market had little to do with a sudden shift in Georgian standards, said Panasenko. "I think it's a political decision, simply because they're not making the quality of Georgian wines any better than they were," he said. "But every cloud has a silver lining. The need to win over other markets has forced Georgian wine makers to improve the quality of their wine, and I'm hoping that higher quality Georgian wines will be on the market soon."
Nonetheless, better options in the wine market had already "switched off" Russian interest toward regional tastes like Georgian wine, argued Kukulina. "When you go to Khacahpuri [a well-known local Georgian restaurant], of course you want to drink something local, and there just isn't any of it. But in regular life I don't think that's true, and I don't think that people are missing it anymore."
By Andrew Roth
Russia Profile
Source:
http://russiaprofile.org/culture_living/44337.html
Permalink:
http://melisbek.com/story/2011/09/whether-beloved-or-overhyped-georgian-wines-are-looking-make-comeback-russia