Nemiroff vodka could disappear from Russian shelves
August 25, 2011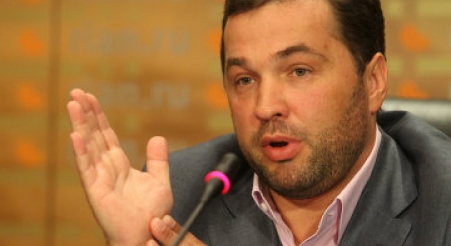 Nemiroff vodka is set to disappear from Russian shelves as a boardroom struggle leaves the Ukrainian brand shaken.
The company's Moscow office has reportedly been occupied by two shareholders, and a third was denied access.
Last Friday Nemiroff announced it would end further sales to Russia as a result of the dispute – and with supplies in the country set to run out in six weeks that could soon mean the end of the brand in local shops.
Row over Russia
Chairman of the board and company founder Alexander Glus, pictured above, who controls 25.04 per cent of the distiller, claims that two fellow shareholders have left him with no choice but to abandon the Russian market.
Yakov Gribov (40 per cent) and Anatoly Kipish (34.96 per cent) have taken over the company's Moscow office, he told Moskovskiye Novosti.
That pair wants to transfer part of the company's production to Russia as a dispute on selling the firm escalated.
Meanwhile the vodka producer, which exports 35 per cent of its stock to Russia, has seen its market share fall from 32 per cent to 26 this year.
Disputed sale
Nemiroff Vodka Limited was due to be bought up by Russky Standart, but the deal fell through. Glus said he was offered $350 million plus bonuses for a 100 per cent stake in the company, but his colleagues demanded a further $20 million to complete the deal.
Gribov, however, told Moskovskiye Novosti that he was not only unhappy with the valuation of the company. He and Kipish were also concerned about the structure of the deal, putting them on a collision course with Glus.
When the Russky Standart deal collapsed, Gribov and Kipish decided to develop the business, but ran into further controversy over the hiring of a management team.
Now there is a question mark over a ruling from a Cypriot court on Aug. 19 which bans them from making strategic decisions on the company's future.
Gribov, however, questions whether that is a binding verdict, saying that there was a interlocutory injunction but insisting that it "does not prevent me and Anatoly Kipish in taking part in running the company."
For his part, Glus does not believe that Gribov and Kipish can succeed, saying they need "big investment, the recipe, consultations with technicians, and on top of it, we jointly own the trademarks."
Battered brand
Because of the boardroom fighting production in Ukrainian plants stopped from mid-May to early June. The company lost about $12.5 million due to the shutdown, Glus said.
Glus intends to file a lawsuit in London Arbitration court against what he called a raid. The other shareholders have 74.96 per cent of the shares, less than the 75 needed to gain total control of the company.
Evgeniya Chaykovskaya
Source:
http://themoscownews.com/business/20110825/188956178.html
Permalink:
http://melisbek.com/story/2011/08/nemiroff-vodka-could-disappear-russian-shelves